Futuristic Forms Meet Historical Details in Designer Danny Venlet's Brussels Home
A prolific Dutch designer by way of Australia rebuilds his roost in Brussels.
Over the course of his three-decade career, furniture designer and interior architect Danny Venlet has made a name for himself with futuristic, free-spirited designs that explore new materials and often allude obliquely to vehicles, airplanes, and travel. "I like variety in my work," says the Red Dot Award winner, who was born in Australia to Dutch parents and lives and works in Dansaert, a Flemish neighborhood of downtown Brussels that has increasingly become home to a design district in recent years.
Dating back to the late 19th century, his four-story brick-and-steel residence offers a stark contrast to his forward-looking work. The building, which is located in the capital city's quarter of béguinages, once belonged to the Hospice St-Jean and is one of several historic structures that were created by the Béguines, a group of women who dedicated themselves to a semi-monastic religious Christian order. As with many of the city's remaining béguinages, after World War II the structure was converted to a warehouse, and then an open-plan, loftlike building with heraldic arched windows—all of which became a perfect backdrop for Venlet's whimsical furniture and objects.
Newsletter
Join the Renovations Mailing List
Get carefully curated content filled with inspiring homes from around the world, innovative new products, and the best in modern design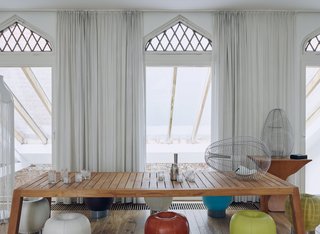 "Buildings with the patina of age are wonderful, but they need to be infused with playfulness and life," says the designer. However, when Venlet moved into the property with his family in 1997, he and his wife deliberately made few improvements, mainly because they couldn't afford it at the time, he says. And, after all, the building was rumored to be the work ofarchitect Henri-Louis François Partoes, who had famously redesigned the historic quarter's harbor and fish markets, reviving them into a lively town square near the landmark Saint Catherine's Church.
The couple raised their two daughters, Mona, now 30, and Astrid, 24, in the historic residence. But the Venlets' divorce and a subsequent accidental fire that ravaged the home and work space 12 years ago changed everything.
The designer had to make a critical decision: give up his house entirely, or fully modernize the 3,300-square-foot building and 650-square-foot outdoor space while keeping the historical features intact. He chose the latter, and in 2005 embarked on a creative restoration with his future second wife and business partner, Evi Lippens.
"Earlier in my career, when I lived in Sydney, I collaborated with designer Marc Newson," Venlet says, pointing to a memento from the time—a spun-aluminum table originally designed for Sydney's Burdekin bar in 1990. It joins other prototypes that survived the fire. In some ways, the table, which was featured in an exhibition with designer Michael Young in Mons, Belgium, earlier this year, also marks the time that Venlet parted ways with Newson and went on to found Venlet Interior Architecture, in 1991. Six years later, the restless designer decided to move from Sydney to Brussels, closer to his ancestral roots and to a new life.
"I was lucky that my house was built of fire-resistant materials," says Venlet of the brick, stucco, glass, and cast iron that make up the structure. "The shell survived, which meant I could start again." In the new interior configuration, his daughters have a room in the attic and the atelier is once again on the ground floor, which was previously the hospice's storage area under original brick vaulting. The 1,000-square-foot living space on the second floor and the bedrooms above it are all now accessed by a new set of oak stairs from the street-level front door. The living room retains its original 19th-century classical-style cast-iron columns and brick heraldic arches with steel-and-glass transom windows; new elm wood floors are a refreshing contrast to the white-painted interior.
The designer had to make a critical decision give up his house entirely, or fully modernize the 3,300-square-foot building and 650-square-foot outdoor space while keeping the historical features intact.
"It is rare to find elm around here," says Venlet. "I found a flooring guy who had a tree for sale, and I ordered wide planks made from it." Original windows in the back wall of the old kitchen, overlooking the ground-floor atelier from the new dining area, now have large clear-glass panes to bring in more light. "Because the building is closely surrounded by other buildings, getting light from skylights above and bouncing it off white walls became important," Venlet says. "However, although I prefer crisp white spaces, I like to add color and textiles in small doses in objects, furniture, and drapes."
"Historical context is everything...I like buildings with a soul and patina. —Danny Venlet, designer and resident

To wit, a cluster of Venlet's stainless-steel Q stools—resembling the plump ends of Q-tips and covered in a brightly colored waterproof fabric called Skai—surrounds the large teak dining table by Dutch designer Piet Boon. Made by the Austrian firm Viteo, the stools can be used outdoors, too. The open-plan living space flows seamlessly into a wide new galley kitchen on one side, with its lacquered IKEA cabinets and stainless-steel countertop. However, Venlet lowered its floor by half a foot so that during parties, he and Lippens can chat with guests seated atop the bulbous, surprisingly comfortable Burdekin bar stools on the other side of the counter. For Venlet, furniture needs to be sculptural and artful as well as interactive in the widest sense.
Among his most popular pieces is a sinewy fiberglass and leather sofa he calls Bendy Bay. "It'sa social space where people sit within their own 'bay' but can have conversations in several directions," he says. "A straight line wouldn't have worked."
"In every interior I do, a sense of humor is important," Venlet adds. "Although I'm generally considered a Belgian designer, I think my work is actually infused with the typical Australian laid-back spirit." That ethos is perfectly demonstrated by Venlet's 2002 Easy Rider, a playfully futuristic seat set on a trio of castors; its wide, flattened arms double as a work surface.Sensuality also features prominently in Venlet's designs. An award-winning outdoor shower designed for Viteo unexpectedly sprays jets of water up from the floor, and the spare, Zen-like master suite on the third story (where Lippens and Venlet's daughter, Nylah-Noy, who is now nine, has an adjacent room) has an exposed bathtub on one side of the room.
"We don't like doors between a bedroom and a bathroom," says the designer. "These rooms have what I call an emotional relationship. And every bedroom can have its own bathroom in this way. That's luxury that transports you to another realm."