Flemish Farmhouse Kitchen
Recommended by
For this farmhouse in the Flemish town of Outgaarden, the Belgian architects 51N4E were charged with designing a new kitchen and adjacent storage space. They decided to split their allotted budget thusly: 70 percent of the budget would go to 30 percent of the space, while 30 percent of the budget would go to 70 percent of the space. This allowed them to be extravagant in the tiny jewelbox of a kitchen, fitting it out with fancy appliances, a Corian and 'BMW walnut' laminate island, and Carrara Bianca stone on the floor, while keeping things raw and utilitarian in the huge storage room.
To separate the two spaces, the architects devised an ingenious sliding door made out of 5mm-thick white marble, mounted on a 20mm honeycomb structure.
Depending on the time of day and the angle of light, the wall acts as a translucent backlit window or an opaque partition.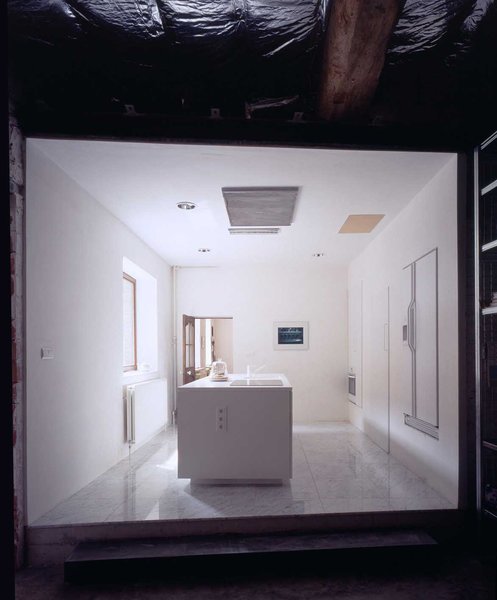 Here's the wall in action: And here's a view back into the kitchen, from the storage room.
As you can see, they inserted the kitchen in the existing structure "like a precious jewel in its velvet box," as the architects put it.  Such gorgeousness.
Jaime Gillin
@jaimegillin
When not writing, editing, or combing design magazines and blogs for inspiration, Jaime Gillin is experimenting with new recipes, traveling as much as possible, and tackling minor home-improvement projects that inevitably turn out to be more complex than anticipated.
Comments
Everybody loves feedback. Be the first to add a comment.
The author will be notified whenever new comments are added.