Family-Friendly Renovation of a Brick Warehouse in Alabama
In Alabama, a commercial building with a multifarious past begins a fresh chapter for a young family after a modern renovation.
"I wish people would not stick their heads into my living room and ask, 'What kind of business is this?'" architect and landscape designer David Hill says with a laugh. This happens often, which is understandable given that his home, an industrial red-brick building, contrasts sharply with the student apartments surrounding Auburn University, where David is an assistant professor, and the typical cozy houses that populate Auburn, Alabama.
Newsletter
Join the Renovations Mailing List
Get carefully curated content filled with inspiring homes from around the world, innovative new products, and the best in modern design
When David and his wife, Elizabeth, moved here from Virginia with their three children, it was the anomaly of a historic brick building off the main street that grabbed their attention. Built in 1920 as a mercantile space in a thriving African-American neighborhood during segregation, the building has since hosted several pool halls, a barbershop, a Baptist church, a few cab companies, several restaurants, and, rather dubiously, a "fish shop."
Auburn city officials had deemed the neighborhood a "development district," so the Hills received little pushback when reclassifying the commercial building for residential use. "We think the area is healthy and diverse, so everyone was supportive," David says.
When the Hills purchased the building, they were unaware of its backstory —it was merely a termite-infested plumbing storehouse with a promising brick-and-concrete exterior. "During construction our neighbors kept coming up and sharing stories about getting their hair cut here, or eating here when it was a cafe," David says. "We realized we had to be a little more careful. This thing had a life, a more interesting life, than we had ever imagined. We kind of stepped back a little bit and didn't do some of the architectural moves that we originally thought we were going to do."
Rather than change the existing walls, David, a principal at the Virginia-based firm D.I.R.T. Studio, worked within the existing spatial volume. Even though several interior walls were added to create bedrooms and bathrooms, David demarcated six significant masonry changes with steel cladding and trim. He ended up with a steel-clad fireplace, a steel-framed front door and trim work, as well as a custom half-ton steel sliding door separating the kitchen, dining, and sitting areas from the living room. "That's a really fun piece of the house. We can literally close the kids in and have adult conversations, or close the adults in and have kid conversations," David says. The door is one of several that delineate the public and private rooms, as well as the children's and adults' spaces.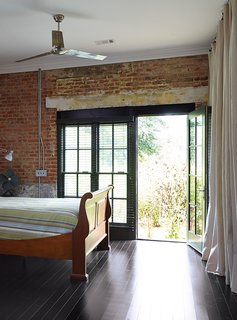 David and Elizabeth salvaged as many of the original ceiling tiles as possible for the main living spaces and incorporated pieces of ephemera found nearby, including a Southern Delite cafe sign for the kitchen. The living, kitchen, and dining areas retained their original brick walls and plaster, which boasts a patina of paint layers, including a splash of red glitter from the building's time as the King's Kongo Klub.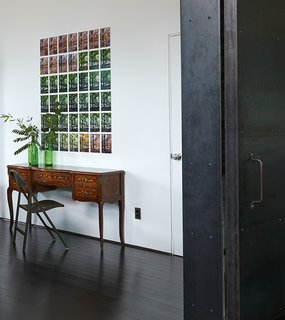 In the master bedroom—once a cab mechanic's station during another chapter of the building's life—a French door now leads to the garden, through the same spot where cars once drove in and out. The decision to create a direct opening to the outdoors was "very strategic, because you can only afford to get this kind of connection between inside and outside in a couple of spots," David says.
It is precisely the many careful considerations, from the sliding doors to structural orientation to historical sensitivity, that provide a sense of home. And, despite the unusual choice of building that garners, as David puts it, "a few funny looks from our friends," a distinctly Southern tradition pervades. "We're not all on top of each other," Elizabeth says, "but I can cook dinner while one child is reading a book, and another is playing Legos, and the other is doing something else, and we're all in this shared space. I just love it."