New York's seminal downtown architecture gallery heralds a Catalonia-born academic, firebrand, and force of nature as its director.
Newsletter
Join the Daily Dose Mailing List
Get carefully curated content filled with inspiring homes from around the world, innovative new products, and the best in modern design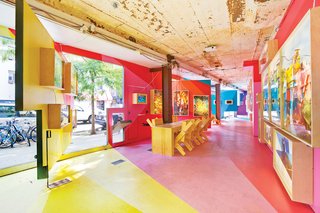 "I'm a very soft dictator," Eva Franch i Gilabert says over the phone from an underground workspace on the fringe of SoHo, just below a wedge of a gallery that's been changing the public face of New York architecture since 1982. After two years at the helm of Storefront for Art and Architecture, she's explaining her life trajectory. It's one that seems charmed for this Catalan architect-critic-theorist-curator, but then again, she's been regulating exactly how it should go.

Franch i Gilbert says she started "doing what I'm doing 33 years ago," that is, the moment she was born. But her architectural career started in college in Barcelona, where she attended the Escola Tecnica Superior Arquitectura, continued through an exchange program in Delft, the Netherlands, then went to find "the next frontier in architecture—and that obviously meant American academia." She applied everywhere, got in everywhere, and decided on Princeton University as the place to "find the right words, the right alliances, the right actions to keep doing what I always wanted to do."

After a hop to upstate New York (hired on the spot for a fellowship at State University of New York, Buffalo) and a skip south to Rice University (where she ran the master's thesis studio), Franch i Gilabert jumped to New York in 2010, where she's been energizing the social scene with her own personality, in part expressed through a fiercely independent style of dress and a penchant for straight talk. She says her role at the nonprofit gallery is to "merge, amplify, confuse, disturb— we are always putting things in doubt." A perfect illustration was a debate this February, during which a passerby interjected with a lively comment on a MoMA curator's discourse. As she sees it, such are the benefits of the space's porous exterior wall designed by Vito Acconci and Steven Holl.