Esquivel Shoes
Recommended by
George Esquivel learned how to make shoes 16 years ago in a Southern California garage. Today the designer runs his eponymous shoe brand from Los Angeles, where his team crafts gorgeous shoes with just enough personality.
This led to my discovery that he's responsible for those adorable spectators seen on the feet of pint-sized pop star Janelle Monae. And then a few weeks back in NYC, the designer debuted his new collection, inspired by Frank Gehry. Yes, Gehry-inspired shoes.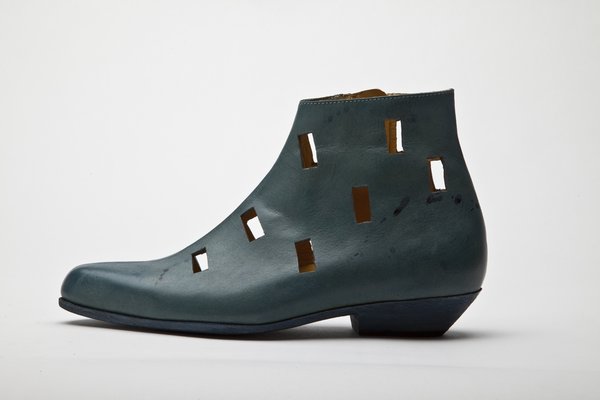 The results are fun and they do capture Gehry's energy. "I'm inspired by the way he uses metallic surfaces, and concave and convex forms. Yet everything has such cohesion," Esquivel says. "I tried to incorporate as much of that criteria into this collection as possible.  Finding the similarities was simple, holes were used for ventilation, leathers were twisted to create a form that was unique and colors were used to reflect light."

Architecture for your feet.
Bradford Shellhammer
@bradfordshellhammer
Bradford Shellhammer is a New York Times featured decorator, Parsons trained fashion designer, and old school blogger. He's Co-founder and Chief Creative Officer of Fab. He created the gay blog Queerty (where he won a Bloggie) and has launched retail businesses for Blu Dot and Design Within Reach, where he also cofounded and wrote their Design Notes blog. He has appeared in a myriad of magazines and websites including The Abercrombie & Fitch Quarterly, Cool Hunting, The Huffington Post, Paper, and ReadyMade. He's kept a personal blog for over a decade and lives in New York City. He owns 137 pairs of shoes and has a weakness for paisley, Paul Smith, and Scandinavian electro-pop.
Comments
Everybody loves feedback. Be the first to add a comment.
The author will be notified whenever new comments are added.