7 Best Houses You Can Rent in the Catskills This Holiday Season
Located just 100 miles north of New York City, the Catskills has long been a go-to destination for city dwellers.
This beautiful nature escape is known as the setting for the landscape paintings that came out of the American art movement from the mid-19th century called the Hudson River School. It's also become known for its resorts that were popular in the mid-20th century. Along with hosting endless family vacations (think Dirty Dancing), they also served as a training ground for numerous young stand-up comedians, including Rodney Dangerfield and Don Rickles. And let's not forget how it became a haven for artists, musicians, and writers—which still reigns true today. Below, we've compiled a list of little houses and cozy cabins for rent to help you plan a late-fall or winter escape.
Average price: $167/night

This modern A-frame is set on a private road in a wooded area in the heart of the Catskills. Its airy, open-floor plan features two full bedrooms, two private baths, and a chef's kitchen. Book Now
Average price: $406/night
Just a few blocks from the center of Woodstock, this historic carriage house has been masterfully renovated by the owner-architect in order to fuse modern living with the rustic-industrial features of the original barn-like structure. Rough-hewn posts and beams, barn wood paneling, and brick-laid floors have been carefully preserved. However, a number of modern amenities have been added, including spa-like bathrooms, a gourmet kitchen, central air conditioning, an in-ground heated pool, and extensive gardens (including an organic vegetable and herb "kitchen garden"). Book Now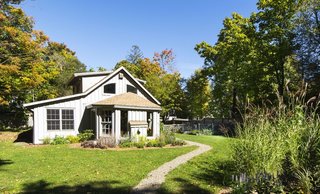 Average price: $299/night
Nestled into a 10-acre park-like estate just one mile from the village of Rhinebeck, this 1,100-square-foot guest cottage was designed to be a relaxing retreat in the woods, with the best modern conveniences. It includes polished-concrete floors and a state-of-the-art chef's kitchen. Book Now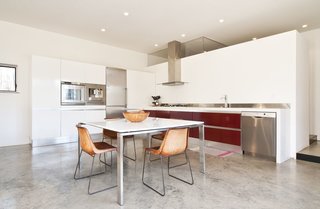 Average price: $214/night
This welcoming cabin offers contemporary details in the form of a cozy upstate retreat. Featuring a soaking egg tub and a year-round pool, it offers 360-degree views of the surrounding trees and a "Montana" tent with a stove and hardwood floors. Book Now

Average price: $237/night
Renovated in 2015, Apartment 2 is located on the second level of a mid-1800s Italianate-Victorian home that's been carefully preserved. While many of the original 19th-century details remain, modern amenities have been added to create a peaceful balance. Book Now
Average price: $177/night

This newly renovated cottage features high ceilings and a modern aesthetic that includes a wood-burning stove, a barn-wood wall, high-end appliances, marble countertops, and polished-concrete floors. Book Now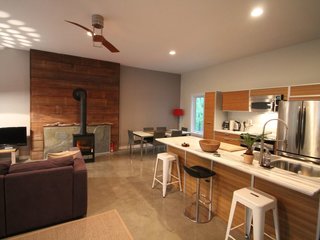 Average price: $400/night
This modern home was designed by Resolution: 4 Architecture in 2008. Located on two private acres, and surrounded by 200 acres of adjacent woodland, the home enjoys beautiful sylvan views of the surrounding mountains and an upstairs deck that's complete with a fireplace. Book Now