Cost-Effective Family Home in Pittsburgh
An architect and his wife roll up their sleeves and create an affordable family residence in Pittsburgh, Pennsylvania. (Plus, catch architect Andrew Moss's guide to the city here.)
Early in the process of building a new house for themselves in Lawrenceville, an up-and-coming neighborhood in Pittsburgh, architect Andrew Moss and his wife, Michelle Yanefski, an electrical engineer, nearly gave up. Moss, the founder of mossArchitects, knew the site had potential, and he and Yanefski were determined to design a home that would comfortably accommodate their family, including their children, Griffin, 15, and Luka, 13. But keeping costs down was a major sticking point, and they had to ditch their original plan when it proved too expensive. Ingenuity often is born of necessity, and the pair simplified and strategized to complete the three-bedroom, 2,300-square-foot house for a little over $310,000.
Newsletter
Join the Daily Dose Mailing List
Get carefully curated content filled with inspiring homes from around the world, innovative new products, and the best in modern design
Andrew Moss: Lawrenceville is a historically blue-collar Pittsburgh neighborhood that was developed around the mills along the riverfront. Most of the mills are gone, but we wanted the house to have a kind of gritty, funky aspect that acknowledged the history of the area. Budget was always a significant factor. There was a week after we got the pricing back on our original design where we thought, "Maybe this isn't the right thing for us at this point." But we went back to the drawing board to make the most of each and every dollar. We really scrutinized every piece of the house and tried to shop it as best we could. It was a good exercise to get us to where we needed to be.
Michelle Yanefski: We decided to do a rectangular box—modeled after a warehouse or a shipping container—because it's a very economical way to build. Then Andrew took the box and tweaked it a little. We went and talked to all the neighbors, prior to even pulling permits, because we wanted to tell them what we were doing. We've had so many people stop and make a point of telling us how much they love the house and how glad they are that it's in the neighborhood.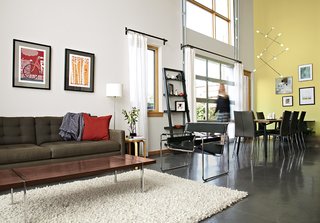 Moss: The great thing about designing your own home is that you get to decide where to spend the money. We were able to splurge on some aspects and cut others that were less important to us. We found ways to recycle and reuse some found objects in the design, and we chose to spend a bit more to create a well-insulated, tight home that is very energy efficient.
Yanefski: We did all the insulation and most of the painting, as well as a lot of the trim sanding and staining ourselves. We managed the project, and we both had full-time jobs, so that made it go slower—but that was by necessity rather than choice! We had friends come and help us, and the children helped, too.
Moss: The floors were one place where we splurged. We really wanted radiant-heat flooring, and because of that we pushed to do concrete floors on the main level. You could do it with a wood floor, but it's so much more effective with the concrete mass. The concrete floors fit well with the industrial aspect of the house, and with the kids and the dog, they're also practical.
Yanefski: We don't really put the heat on that much, and that's mostly due to the passive solar energy from the windows and, of course, having good insulation. I don't think we realized how well that was going to work. Would we do it again? After we moved in, somebody offered to buy the house. I was like, no way. I just can't go through building another house again. We have stories about every little piece of it.