This Vignette-Rich Cottage on Long Island Is Full of Rare and Vintage Furniture
Greenport Residence in New York reflects a couple's far-reaching tastes.
Francine Monaco liked spending weekends on Long Island's North Fork so much that, in 2001, she decided to buy her own place there. Francine, an architect at D'Aquino Monaco in Manhattan, chose Greenport—then a sleepy fishing village, now a burgeoning resort town—because she wanted a place she could get to without a car. Good train service and walkable small-town streets made that possible.

Newsletter
Join the Daily Dose Mailing List
Get carefully curated content filled with inspiring homes from around the world, innovative new products, and the best in modern design
One of the first properties she looked at was a quaint cottage plopped right next to the village hall. Built in 1946, it "had a spirit and energy that was so positive that I felt sure it would work," she says.
The classic Cape Cod bungalow had some charming features, including a stone fireplace in the living room and a grass ceiling in the sunroom, and, at 1,400 square feet, plenty of space for one person. She made virtually no changes and moved in, accepting its less-charming qualities—Homasote ceilings and fake-wood paneling in the attic and a vinyl kitchen floor—as they were.
Then, in 2008, she married David Bauer, a therapist, yoga instructor, and musician. That's when the house, which until then had been little more than a place for her to hang her hat after a day at the beach, started to morph into a serious home.
Perhaps the most visible change came in 2010 with the raising of the roof dormer above the cramped attic to create a new master bedroom and bath. In 2012, the couple took on the dated kitchen, opening it up for gatherings and redoing the cabinetry in a mixture of fir paneling and stainless steel. At the center, Francine designed a sturdy English oak table and surrounded it with vintage Thonet chairs reupholstered in various shades of leather. Their most recent projects took them outdoors, where Francine created a fence with a musical scale motif and David built a stone pizza oven.
But the couple's personalizations are clearest in the curios they've arranged throughout the home. Those pieces that were not bought at Greenport's Beall and Bell, a favorite vintage shop of Francine's, were studiously collected over the years.
"Even though the house is small, you always have somewhere to escape to. Each room has its own personality and energy, so you can find your nook and relax." Francine Monaco, architect and resident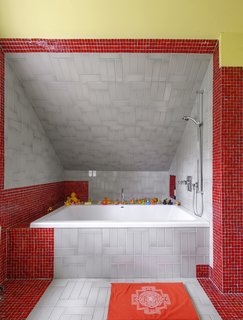 In the sunroom, an old children's desk is brimming with disparate items—David's violin and guitar, a bird's nest, a fish skeleton, a candlestick—in a composition that evokes a Picasso still life, all beneath an old map of Long Island. Francine's late father's engineering tools appear in decorative schemes, and a carved boat that he made takes pride of place in the living room.
In the library, mandalas—ritual symbols used in Hinduism and Buddhism—join a toy orrery, a model of the solar system. Shelves between the kitchen and dining area showcase pottery gathered on their travels. For Francine, the key to creating their home was time.
"This house has been a long process, which gave us the ability to look for pieces that we really felt fit our aesthetic," she says. "Because it didn't happen at once, we could search out and pull together a home that feels uniquely us."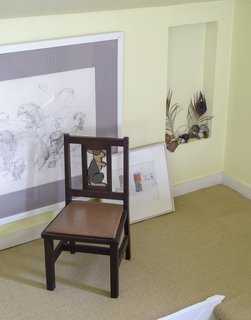 Where to Stay in Greenport