A Rustic-Modern Cabin Inspired by Japanese Bungalows and Shou Sugi Ban
A mountain cabin's design is Appalachian by way of Japan.
Zen-like in its simplicity, the weekend home of Michael Neiswander and Nick Corsello is an Eastern oasis tucked into the mountains of North Carolina.

Newsletter
Join the Daily Dose Mailing List
Get carefully curated content filled with inspiring homes from around the world, innovative new products, and the best in modern design
Michael is a principal architect at ASD/Sky and Nick is a media and entertainment attorney. The couple are based in Atlanta, but when it's time to decompress, they head straight to their Scaly Mountain getaway, 3,500 feet above sea level and about 90 miles southwest of Asheville, just across the border from Georgia. At approximately 1,000 square feet, it's a small, concrete-and-darkened-wood hideaway, drawn directly from the little bungalows they once saw on a trip to Kyoto.

"I usually say it's Japanese rustic modern—three words that pull all the elements together." Nick Corsello, resident
"The detailing with the board-and-batten is certainly similar," Michael observes. "Our inspiration was Japanese shou sugi ban. The cost of charring cedar pushed it out of the ballpark, but we still stained the pine black for that effect." Roof rafters are centered so that their spacing aligns with the boards applied to horizontal siding on both the exterior and interior. "It sets up a nice rhythm and worked out very well proportionally," Michael says. "I usually say the house is Japanese rustic modern—three words that pull all the elements together," Nick adds.

"People here are very relaxed. As we turn up the mountain road, our blood pressure goes down." Michael Neiswander, architect and resident
And like the micro-dwellings for which Japan is known, the house is very clever with space. A prime example is the kitchen, which opens out to a 10-by-10-foot deck overlooking a 180-degree view of forest and rock-faced mountain ridge. In the spring, native mountain laurel, rhododendrons, and sourwood bloom alongside pine trees and oaks. It's a perfect backdrop for dining alfresco. "We can pull the furniture out there," Michael says. "There's a mobile table that fits on top of an island in the kitchen. When it's rolled out onto the deck for dinner, it becomes a tall table with stools that work with it."

The couple sited the home on a steep, 35-degree slope, perched on wood piers set atop concrete foundations. A small core of concrete block supports the kitchen and baths above, while protecting pipes and utilities. An 18-foot wood bridge, with railings of welded-wire fencing, links a stone path to the front door. "The front of the house is about six feet off the ground, and the back of the house is twenty-five to thirty feet above it," Michael says.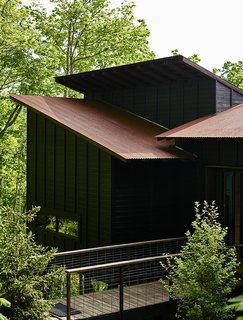 The property's altitude makes it relatively free of insects, at least for a forest. There's minimal landscaping because of erosion issues, and, in any case, the pair wanted to keep the surroundings as natural as possible. An old mining road now serves as the primary driveway.

All in all, Michael and Nick have created a four-season cottage for themselves, their families, and friends. "We especially enjoy it in the winter," Nick says. "It's nice to nestle into."