Build Your Design Muscles With a Home Gym
Why not exercise your design muscles and get a fantastic workout at the same time?
Going to the gym is a struggle for many of us. We know exercise is important, but we either lack the energy, time, motivation, or finances to support a gym membership. It's hard enough figuring out what exactly constitutes appropriate gym attire, but it can make things even worse if you have performance anxiety to overcome.
With the obesity epidemic becoming more of a concern, we know it's time to get our physical health in check — but is going to the gym the only answer? Instead of leaving your house to go the gym, bring the gym to you and create a home gym. After all, why not exercise your design muscles and get a fantastic workout at the same time? Here are some things you should consider when designing your home gym.
Be Well Equipped
Newsletter
Join the Daily Dose Mailing List
Get carefully curated content filled with inspiring homes from around the world, innovative new products, and the best in modern design
Before doing anything, you should define what your fitness goals are. By knowing what you ultimately want to achieve with your home gym, you'll be able to pinpoint healthy habits and exercises that will get you to where you want to be physically.
Having some goals in mind will also help you determine which equipment your gym really needs. With so many brands and products on the market, you'll end up turning your entire house into a gym by the time you buy every piece of equipment experts recommend.
That's why you should take some time to research what you truly need to fulfill your specific goals and make more informed purchases. Just remember the amount and size of equipment you acquire will determine the size you need your home gym to be as well. Step counters and fitness trackers won't require space, but treadmills and elliptical machines will.
Location, Location, Location
No matter how ambitious your design ideas are or not, you'll need enough room for yourself and your equipment to set up a home gym. People have dedicated entire spaces for their home gym, such as a room, basement, attic, garage, or an entirely separate building.
However, if you don't have as much square footage to spare, home gyms are still possible by cohabiting in rooms like your home office or living room. It's not necessary to have an exclusive gym space to have a home gym, but it is crucial to incorporate your exercise routines in its layout.
Your home gym will not serve its purpose if it's situated in a way where you can't actually workout. If you need plenty of natural light to stay energized, then design your gym by plenty of windows. If your equipment requires an electric charge, make sure electrical outlets are nearby.
Also take ventilation into consideration. Most people don't like to be miserable and hot when they exercise, and most people don't like the smell of a miserable and hot person exercising either. Lastly, think about storage space ideas for your home gym. You don't need to forsake a clutter-free home to stay fit.
Don't Let the Floor Sweep You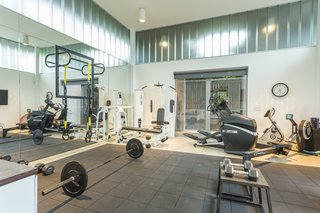 The kind of flooring your home gym has is just as important as the flooring you install for the rest of your house. Although aesthetics are always important, other factors should be taken into account before committing to a pretty but impractical option.
One very important thing to consider is your safety. If you were to slip or fall off one of your bigger pieces of equipment, your beautiful concrete or hardwood floors could end up landing you in the hospital. However, the durability of a flooring material is also of importance.
A plusher carpeting may be better at cushioning your fall, but it also won't stand up to the wear and tear from your workouts on and off your exercise machines. Stiffer, non slippery surfaces such as rubber are going to be your best bet for your home gym since they address both safety and durability concerns.
Utilize the Power of Decor
Lastly, it's time to get your design face on. How you decorate your home gym — in expected and unexpected ways — will greatly affect how good of a workout you'll actually get. Motivation is the number one thing that prevents or encourages you to reach your fitness goals.
If your home gym doesn't motivate you to hop on the treadmill or lift weights, what's the point of getting one in the first place? You know yourself the best, so design your gym in a way that will fuel your needs. If the area your home gym is currently in is sapping your energy instead of boosting it, try painting the walls a different color or move your gym into a different space altogether.
Sometimes a change in scenery is all you need. If audio or visual stimulation drives your physical activity, invest in some tech and decor to get the best workout possible. If you can't exercise without music, get a sound system. If you need visual motivation, hang up posters that will fire you up. Whatever you need to help you be the best physical you, include it in your home gym.
Not many of us are near gyms we wouldn't have to be dragged to. That being said, going to the gym can be a chore, but designing your home gym doesn't have to be.
Working out at home resolves a lot of the issues people have about exercising at a local gym, helping to increase comfort, fitness, and style levels. By keeping a few essentials in mind, you'll be able to say "home gym sweet home gym" in no time.