Budget Breakdown: A Weekend DIY Turns a Neglected Garage Into a Backyard Hangout For $13K
In Portland, Oregon, an experiential designer transforms half of his decrepit garage into a screened porch over just three days, creating a laid-back, outdoor room.
A year after Ben Carstensen moved into his 1925 bungalow in Portland, Oregon, he had a mission: to get his backyard ready for the summer. "It was just filled with weeds and an old, dead tree," Carstensen says of the space. "I tore everything out and started with a blank canvas."
The focal point of the backyard redesign is his conversion of half of the detached garage into a screened porch. At 540 square feet, "the garage was large, and underutilized," he says. "I used it as a woodshop and for storage, but I didn't need all of that space."
Newsletter
Join the Renovations Mailing List
Get carefully curated content filled with inspiring homes from around the world, innovative new products, and the best in modern design
Since the backyard is on the smaller side, Carstensen needed a solution that would expand its footprint, as well as an "additional outdoor space that could be utilized even on a rainy Portland day," he said. "The screen porch approach was the answer."

Over a long weekend in May of this year, he and his parents tackled the project. They framed up a wall to divide the garage in half, then removed the interior and exterior wall cladding on the screened porch side in order to replace it with screening. The result? "The absolute best space to relax in during the evening," said Carstensen, who likes to hang out there with his two dogs on the regular.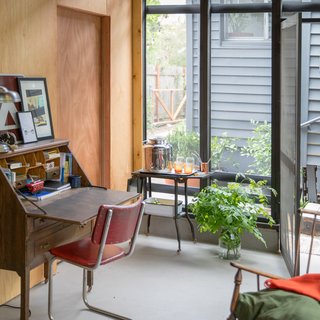 Shop the Look
Project Credits:
Design: Ben Carstensen
Furnishings and lighting: Schoolhouse Electric
Photography: Alex Creswell/Schoolhouse Electric
Where to Stay in Portland