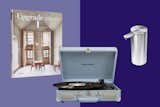 The Top 15 Products Dwell Readers Bought in July
Barbecue tools, bath towels, and running shoes galore.
Last month, we saw Dwell readers add to their summer reading list, take advantage of some great deals during Nordstrom's anniversary sale, and embrace pool life with floaties suggested by this vegan skincare brand's founder. Take a peek at the most popular products from our community that will keep temps down, aesthetics up, and summer hangouts going strong for the rest of the season.
New sheets, new you!
This will make your repeat listenings of "Edge of Glory" slightly more fun.
What's not to love about a new towel?
Bring the fields of lavender to your dusty kitchen.
A nice, crisp, comfy short.
There's always room for melamine!
Pin these homes to your personal vision board.
Run like the wind, or something like it.
Even if you don't have a pool, keep these on hand just in case.
A minor upgrade from disposable tinfoil trays.
Everyone loves linen!
A good soap dispenser is hard to find... but we did.
Read this before you install that wall sconce.
Scrub-a-dub-dub.
Read this before you tear up the tile in your kitchen.
Get the Shop Newsletter
Smart shopping for the design obsessed. Find what you love in our expertly curated selection of finely crafted home, office, travel, and lifestyle products.