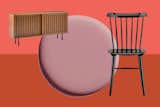 The Top 20 Products Dwell Readers Bought in 2022
From linen bedding to toile wallpaper, here's what your fellow design aficionados purchased in 2022
Our readers are discerning aesthetes with a wide range of interests, and that diversity of thought is reflected in this list of the products you loved (and bought) this year. Good design is the glue that binds these products together, and you, dear reader, have excellent taste.
A good chair!
A cheery cake stand that doubles as decor
A sofa for guests that is also nice enough for you
An elegant table with leaves
Everybody loves linen!
A rug for all homes
What's not to love about a warm indoor-outdoor shoe?
Finally, a TV console that actually looks good
A coffee table with some character
Banish the overhead light once and for all
If you MUST have overhead lighting, might as well make sure it looks good!
It's Shaker, but make it modern enough not to feel dusty
Toile isn't for everyone, but this is irresistible
Good olive oil is a great thing to have
You don't have to put this pan away
An elegant chair that's also good for the enivronment
Give the Le Creuset a break
Good for shoes, mail, keys, spare change, and your phone, when you no longer wish to look at it
Sleep well!
We love the products we feature and hope you do, too. If you buy something through a link on the site, we may earn an affiliate commission.
Get the Shop Newsletter
Smart shopping for the design obsessed. Find what you love in our expertly curated selection of finely crafted home, office, travel, and lifestyle products.