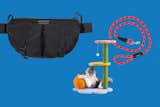 Gifts for the Design-Oriented Pet and the People Who Love Them
Mr. Fluffypants deserves some stuff that looks nice and is functional, too.
Though it's true that a cat needs nothing more than a cardboard box and a hair tie to be entertained, sometimes it's nice to treat your precious ward with something a little more upscale. The same goes for your dog, who certainly wants—and deserves—to be the most stylish border collie at the dog run. This year, pamper your beloved fur baby—or your favorite pet parent—with a special treat this holiday season. These thoughtful gifts for dogs, cats, and their owners are playful and practical but don't sacrifice design.
Gifts for Dogs
Opt for a fluffy and affordable pet bed recommended by our CEO.
If it's good enough for mountain climbers, then it's perfect for Astrid, your Bernese Mountain dog. In green, it's nice pop of color against any dog whose natural color palette skews neutral.
A reversible, striped dog bed handcrafted by pedal loom weavers in Guatemala.

This chic bag holds dog treats, your wallet, some trail mix, and whatever else you need for a day with your best pal.
This interactive feeding toy helps slow snarfing and encourage mental stimulation for your pet.

A no-fuss ceramic food bowl that's dishwasher and microwave safe.
In no world should your dog do anything untoward with a real dolphin, so this toy is perfect.
For fancy fur babies with sensitive skin.
When it comes to tug-of-war, this is the ultimate toy.
Celebrate the most fantastical designs humans have made for their animals—from a hammock for dogs to a bird house built into a roof.
A hand-loomed rug to keep your toes—and your pet's paws—warm.
These easy recipes will have you whipping up healthy, dog-friendly meals in no time.
For a nice break from the neon-green tennis ball.
Gifts for Cats
Embrace your inner cat lady and drink this tea with your kitties.
Let your feline friend taste the rainbow.
This fascinating book explores the history of Japan's feline fascination, from the Nekozushi craze to the Aoshima "cat island."
Look, if it has to sit in the living room, it might as well look nice.
Mix it up with this pack of assorted catnip toys.
A comfy hoodie to display your feline fondness proudly.
Your cat will love this pounce toy that keeps the rivalry alive.
A cat bed for scratching and snoozing, made from recycled paper.
It's for the best that cats can't speak out loud, but this book might give you some insight into what's happening inside their cute little heads.
This minimalist cat throne will blend in seamlessly with other home decor.
There's nothing like the gift of stress-free scooping.
This cat tree will show your sweet kitten that you care.
Get the Shop Newsletter
Smart shopping for the design obsessed. Find what you love in our expertly curated selection of finely crafted home, office, travel, and lifestyle products.