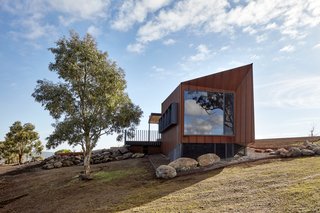 View Photos
The 11 Most Influential Architecture Trends of 2019
These cutting-edge trends show how modern architecture stands to impact our everyday lives and society at large.
While off-the-grid prefabs and lush nature retreats can spark a flame of inspiration in all of us, architecture can also provide solutions to pressing issues ranging from global warming to the lack of accessible housing for vulnerable communities. Our friends at ArchDaily curated a list of growing architectural trends from 2018 to predict which ones will make waves in 2019. Read on for a look!
1. Small Space Living
Newsletter
Join the Daily Dose Newsletter
Get carefully curated content filled with inspiring homes from around the world, innovative new products, and the best in modern design
Small spaces continue to be a growing trend in 2019—including tiny cabins, petite prefabs, and breathtaking airstream transformations. Minimalism and tiny living can be great solutions for anyone trying to live a more eco-friendly lifestyle, or for those that simply don't have an abundance of space to work with. Small space living proves that no matter how much space you have (or don't have), there's always room for good design.
2. Accessibility in Design
Accessible design ensures that everyone has access to adequate and functional spaces in both public and private contexts. Homes such as the one pictured above in Northern California carefully address the needs of the homeowners. The plan creates accessible paths for Melanie Maher, who uses a wheelchair after being diagnosed with muscular dystrophy.
Other examples of architecture that emphasizes accessibility are homes designed for aging in place to accommodate senior homeowners. Housing communities that provide shelter for those struggling with homelessness and/or those struggling with mental health also focus on the ways in which architecture can provide positive solutions on an individual and societal level.
3. Architecture in the Middle East
Architecture in the Middle East has been gaining more attention over the last year. Of note are new projects like the Qatar National Library, named one of the most influential buildings of 2018, and professionals like Lebanese architect Hashim Sarkis, who will curate the architecture exhibition at the next Venice Biennale.
Global events have also garnered attention for structures emerging in the Middle East. Qatar will host the next World Cup in 2022, which has increased curiosity about the stadiums being built for the event. Meanwhile, the Syrian refugee crisis has created an urgent need to house millions of people and spurred the development of new types of emergency shelters.
4. Digital Innovation
In the past year we've seen an upswell in discussions on gender thanks to the #MeToo and #TimesUp movements. Gender inequality and visibility in architecture are increasingly being confronted within the field. Although almost as many women are graduating from architecture schools compared to men, women are still being hired at a significantly lesser rate than men.
Combatting these issues requires creating working environments that are more welcoming to women, and recognizing the work that female architects contribute. In efforts to create more visibility and appreciation for women in architecture, we're using the moment to shine a spotlight on the iconic women who have become role models in the field.
6. Architecture in Motion: Planes, Trains, and Automobiles
Public transportation centers and mobility are increasingly becoming mediums for innovation in design. Concepts driving the development of transportation, such as efficiency and automation, are also transforming architecture as smart home tech advances by leaps and bounds.
We've also seen aging public transit centers find new life as adaptive reuse projects. The TWA Hotel (pictured above) transformed an old JFK Airport terminal designed by Eero Saarinen into a luxury hotel for travelers.
7. Green Urban Planning
Landscape urbanism seeks to design city plans focused on preserving soil and water resources. The concept builds upon Frank Lloyd Wright's belief that design should complement and listen to nature.
Permaculture, which relates to the sociopolitical impacts of architecture, has also led to the emergence of urban farming and other agriculture initiatives. Brooklyn-based Future Green Studio specializes in designing urban green spaces like the Nowadays Park pictured above. These efforts hope to use architecture and urban planning in ways that benefit communities.
8. Recycled Materials
As the need for sustainability becomes more urgent, architects are increasingly turning to recycled materials. Studio2012's project (pictured above) shows that while using recycled materials is rooted in sustainability, aesthetics and craftsmanship don't have to be sacrificed.
On a larger scale, cities are implementing strategies to reduce the carbon footprint of construction and development. This approach encourages "degrowth" by focusing more energy into the renovation and rehabilitation of spaces through adaptive reuse projects, as opposed to the development of new structures.
9. Locally Sourced Materials and Design
Along with ecological and environmental awareness, a shift towards local materials and techniques is resulting in more sustainable and affordable projects. Fieldwork Design & Architecture committed to using locally sourced materials for the Kerns Micro House in Portland. As a result, the studio was able to frugally design a thoughtful abode.
10. Automation and Robotic Design
We've seen a huge upsurge in smart home products that make it easy to address everyday household needs—from adjusting the temperature to checking who's at the front door, or even getting a good night's rest. Many of these systems will also learn your preferences and adjust your home's environment accordingly.
Robotic furniture also offers new ways to maximize space. Ori's Cloud Bed is a multifunctional furnishing that doubles as a sofa and a coffee table. Needless to say, it's a major upgrade from the traditional Murphy bed.
11. Energy-Efficient Homes
Energy-efficient homes help address the urgent global warming crisis while saving homeowners money on utility bills. It's now even possible to design "zero-energy" homes that supply all of their own electricity needs and "energy positive" buildings that produce more energy than they use.
Related Reading: The Top Modern Home Decor Trends of 2019