Andrea Cochran's Bold Landscape Designs Are Natural Wonders
Andrea Cochran, a 2014 National Design Award winner, applies a site-specific approach to tease out the ephemeral and sensory.
It takes a certain chutzpah to tell a client that what they really need is a 100-foot-long stone pyramid. San Francisco–based landscape architect Andrea Cochran revived the iconic form at Stone Edge Farm Estate Vineyards & Winery in Sonoma, California. The structure is a gently sloping mass of meticulously arranged, site-harvested stones, not an imposing Las Vegas–style ziggurat. It is a powerful reminder of the more intimate connection with the land. "The shadow of the trees moves across the slope, and the whole surface becomes alive," Cochran says. "It's like a sundial." 
Newsletter
Join the Daily Dose Mailing List
Get carefully curated content filled with inspiring homes from around the world, innovative new products, and the best in modern design
Cochran has infused many landscapes with potent expressions of natural wonder. The 2014 winner of Cooper Hewitt's National Design Award in landscape architecture, she creates outdoor spaces that have the composition of minimalist paintings, with simplicity and rigor that throw fine-textured plantings and intricately shaped trees into greater relief. She strives for a multisensory impact. For example, Cochran collaborated with Ned Kahn, who designed the immense fog-generating Cloud Arbor sculpture for the Children's Museum of Pittsburgh. At the H2hotel in Healdsburg, in California's wine country, she specified humble gravel paving. "What you feel underfoot is part of the ephemeral qualities of what makes a place," she says.
Cochran arrived at her approach, which she describes as "sensory and intuitive," after working in a design-build partnership. There, she spent less time in the studio and more time in the field, where she experienced the tactile qualities of materials, experimenting with them and learning how to highlight their characteristics. "It's like being a painter or a sculptor," she says. "If you never pick up a brush or model with clay—and only do drawings to represent the ideas—your work will not mature."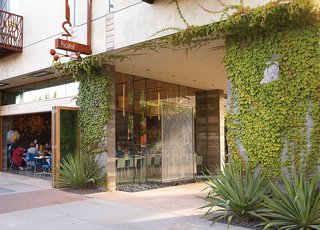 A native East Coaster who had youthful dreams of becoming an artist, she studied landscape architecture at Rutgers University and then at the Harvard Graduate School of Design. She worked for a handful of architecture firms, creating streetscapes and parks for new cities in the Middle East. "I never got to go there because, as a woman, I couldn't travel there alone," she says ruefully. A move to California in 1981 allowed her to delve deeply into local projects for clients who valued landscape architecture. "People saw their outdoor space as part of their living space; it wasn't just about making it look nice from the street," she says.
Today, her practice is split between residential and institutional/public work, giving her the valuable opportunity to test out ideas and plants on a small scale before using them on larger projects. She is proud of being an early adopter of tough-as-nails Australian plants, such as the grass-like Lomandra, and specializes in drought-tolerant landscapes, such as her recent project for the University of California, San Francisco's Smith Cardiovascular Research Building. The client requested a "romantic" courtyard that would counteract the concrete formality of the other spaces on the campus, and Cochran responded with swaying beds of native grasses, a memory of the salt marsh that once existed there. 
These carefully wrought moments of greenery help mitigate the ills of the built environment, a job that Cochran sees as critical as urbanization increases. "We are now forced to contend with increasingly complex environmental issues—sea-level rise, water pollution, and the scarcity of natural resources," she says. "Landscape architects are uniquely qualified to address these problems because we have a diverse skill set and broad understanding of technical issues. In our work, we strive to create powerful landscapes that connect people to the environment, in the hopes of instilling a sense of stewardship."