A Renovated Tribeca Loft with Skylight
Recommended by
American history lives on in a family's Tribeca, New York, loft after a renovation by a couple of enterprising architects.
Some 20 years ago, Chicagoan James Marcovitz bought a derelict loft in an old tenement in Tribeca, then a neighborhood that had yet to reach the upper echelon of the Manhattan real estate bracket. "I was looking for a cheap place to live downtown," he recalls, "and it was even cheaper in Tribeca than on the Lower East Side." (Today, the two are on par in terms of trendiness, while Tribeca now ranks as one of the priciest zip codes in New York City.) The apartment had a wood-burning stove, barely functioning wall heaters, and only one toilet for the entire loft space—defects Marcovitz attempted to fix himself with trips to the hardware store and Ikea.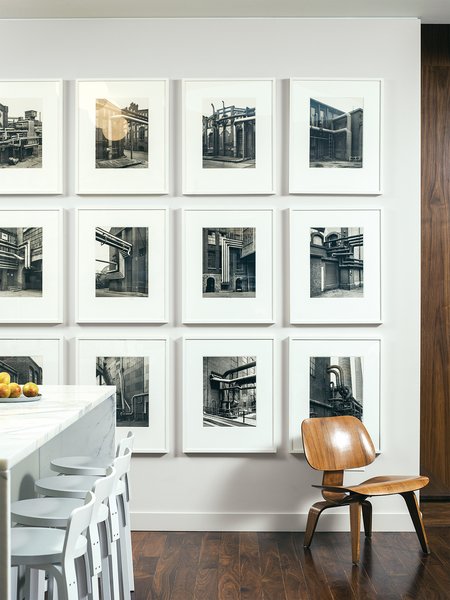 A decade passed, and he married Jennifer Geiger, a former art director for the Martha Stewart television empire, and the couple had two sons, Houldin and Jonas, now 10 and 8. The family realized that they had to do something to improve their living conditions—the space wasn't insulated, and there was no privacy for children or parents. By 2008, they concluded that it was time to renovate or move. Geiger and Marcovitz, who studied art history in college and is now a lawyer, began the quest for a designer.
After countless interviews, the couple saw an article on Pulltab Design in Metropolis magazine and quickly called. "They hired us because they saw that we could be creative with zoning and NYC building codes," says Pulltab principal Jon Handley, who, with his partner and wife, Melissa Baker, used all his ingenuity to work within New York's strict regulations. "Everyone bends the rules in a renovation—it made us be more creative to follow them," says Handley.
It took more than a year just to navigate the tangle of renovation red tape to get the needed building permits, including permission from the building's co-op board to break through to the roof—the loft is on the top floor—and add a terrace and master bedroom suite.
Pulltab's inventive use of motorized skylights connected to light wells, which punctuate the space, allowed the architects to create rooms that city ordinances would usually not have permitted. (New York City code prohibits interior rooms that lack light and ventilation, so dividing up a loft space with no windows along a parti wall can be problematic.) They separated the living room from the kitchen-dining area by constructing a boxed-in structure between the two and adding operable skylights to both newly carved-out spaces. When seen from the living room at the loft's entrance, the square structure seems to be a storage wall—and, indeed, it does conceal storage and a television. However, as you walk along the arterial hallway, toward the kitchen, you discover an entrance on the other side. The jewel-like room serves as a transformable office-studio, complete with a Murphy bed for guests.
One of the loft's most striking new elements is the huge, round, bronze-trimmed skylight abovethe kitchen and dining area, which extends to the roof terrace above—a veritable periscope. The effect is dramatic. "It's like being in the Turrell room at PS1," says Marcovitz, referring to light artist James Turrell's Meeting at the MoMA-affiliated PS1 contemporary art space in Queens.
The dining area is furnished with a vintage Milo Baughman table, flanked by simple wood dining chairs from Design Within Reach. Overhead, a dramatic Lindsey Adelman chandelier casts light on the setting. The kitchen has gleaming white Calacatta marble countertops that waterfall around the top and sides of custom cabinets. A wall of shelves is filled with Geiger's monochromatic flea market finds.
The floors throughout the loft are no-sap walnut. "That's what my father, who was in the lumber business, always told me was the only walnut to use," says Geiger.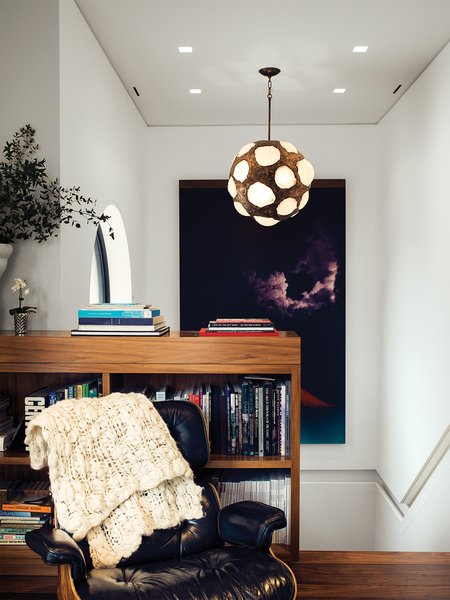 The children's area lies beyond the kitchen, with two bedrooms, an adjoining work-playroom, and an en suite bath. The main walls are painted Skimming Stone from Farrow & Ball; the same color is used in the master suite, but there is a wide range of subtle hues throughout the loft. "Jen wanted to move away from the traditional loft, all-white color scheme," says Handley, who adds that he and Baker were influenced by the palette used in HBO's production of John Adams. The beautifully detailed cabinetry throughout the loft provides tons of storage and conceals the normal clutter associated with everyday living.
Parents Marcovitz and Geiger have their own hideaway in the rooftop addition, reached by a custom-finished walnut stairwell with inset Corian handrails, an inspired detail. At the top of the stairs, a small lounge sitting area—furnished with a classic Eames lounge chair and vintage pieces by Greta Magnusson Grossman—provides an easy transition between the master suite and the outdoor terrace, which the family uses as much as it can, even in the winter months. The bedroom is pale and tranquil, enlivened by a wall of artwork carefully curated by Marcovitz, a keen collector, whose selections punctuate the entire loft and lend the space a heightened air of sophistication and uniqueness.
In all, the renovation process took four years. But Marcovitz was philosophical about the wait, saying that he anticipated it. "You have to have realistic expectations," he says. "If you push too hard, it hurts quality."
Arlene Hirst
@arlene_hirst
Deputy director of design at Metropolitan Home magazine until it closed in 2009, Arlene Hirst is now a freelance journalist. Her byline appears frequently in New York Times Magazine as well as Surface, Modern, and Interior Design magazines and Elle Decor Italia.
Comments
Everybody loves feedback. Be the first to add a comment.
The author will be notified whenever new comments are added.