A Modern Renovation Connects to a Traditional Texas Town Through a Glass Wall
In a South Texas border town, a family introduces a bold aesthetic.
Ten miles north of the Mexican border, in South Texas, the city of McAllen is a continually evolving metropolis. The largest city of Hidalgo County, it's home to a growing mix of Mexican and American cultures and increasingly contemporary architecture—the result, in part, of an economic boom that has amplified in the past few decades. Located in the city's central neighborhood formally known as Old McAllen, the home of creative director Hector Sanchez and his family—a starkly modern box flanked by the region's traditional ranch-style homes—is one such project that has served as a pioneering force.
Newsletter
Join the Renovations Mailing List
Get carefully curated content filled with inspiring homes from around the world, innovative new products, and the best in modern design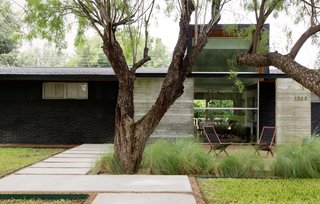 Called the Hibiscus House, the residence was designed by Hector's brother-in-law, Luis López. The local architect envisioned the structure as a midcentury-modern spin on the architecture of Rio Grande Valley, a vernacular characterized by simple Mediterranean- and Tuscan-style homes translated to a South Texan aesthetic. "This area is unlike the rest of the state," Hector says of the fastest-growing region in Texas and its proximity to Mexico. "It's kind of an independent country where the architecture is changing because the Mexican migration is demanding more sophisticated design solutions." Serial, mass-produced constructions, he adds, have continued to dominate the area as recently as the early aughts.
López has used the area's unique architectural vantage point to open up the conversation about contemporary design in South Texas. Incorporating features that speak to his progressive outlook, he has quickly become a leading figure of McAllen's growing design scene, though he's lived in the city for less than a decade. Born in Mexico, he started his architecture practice, López Resendez Studio, in 2010, with two offices—one in McAllen and the other just 16 miles south, in the border city of Reynosa, Mexico. López, along with former partner Kazuya Katagiri, is credited with designing the first contemporary house in McAllen: the Casa RS, one of the firm's earliest designs, built in 2007.
When Hector and his wife, Alejandra, decided to plant new roots in the region, it seemed only natural to call upon López's expertise. The couple and their kids—Sara, 10, and Mateo, 7—have moved cross-country numerous times and, prospecting the site of their next home, had grown accustomed to touring neighborhoods by car in order to experience the local scenery firsthand. Looking for an area in which they could introduce a fresh, new aesthetic, they decided upon an existing 1,700-square-foot residence on a quiet block lined with traditional homes owned by a community of older generation, long-term dwellers. With its simple, rectangular shape and layout, the house presented the perfect structure for the family's renovation plans.
López was also particularly drawn to the vegetation surrounding the property, which Hector and his family purchased in early 2014. A lemon tree, an orange tree, a grapevine, mesquite trees, and a grapefruit tree—a sweet nod to McAllen's reputation as the home of the ruby red—fill the front yard with a lush expanse.
To enhance this natural beauty, López enacted a series of interventions to open up the home and create a seamless connection with the outdoors. Working on a budget, he creatively repurposed many of the home's original features to cut down on costs while also maintaining its basic box structure. He transformed the existing garage into an office, replacing the door with a window frame from the master bedroom, opening the space to outdoor vistas. He also extended and built an enclosed front patio, using salvaged brick that had been removed from the living room to enlarge a window. There were some elements he kept, including the original kitchen cabinets, which were left intact and refreshed with a new paint job.
The entire exterior was also updated with a new color palette. After initially considering an all-white treatment, López and Sanchez decided to paint the house black, a simple move with a stunning result that even they had underestimated. The new hue made everything pop with life: The grass felt greener, the door looked whiter. Everything became bolder.
The result—a welcoming, transparent structure with an expansive, front-facing window—provides an unabashedly refreshing contrast to the surrounding homes that have been guarded and fortified as a measure of security due to the nearby Mexican border. In a powerful subversion of the community's in-grained architectural approach, the home, with its inviting visibility, telegraphs a warm welcome to the community, rather than shutting it out.
Hector supported his brother-in-law's design ap-proach, and, having previously lived in denser, more urban parts of the country, considered it an ideal transition for his new home. "What we are doing here is difficult because people don't understand—it's unfamiliar," says López. And yet, to their delight and surprise, the neighbors, with watchful eyes, have been largely complimentary of López's design choices. "Everybody who drives by the front of the house goes very slowly to see what's going on inside," says López. "It's exposing the neighborhood to the way they live—it's become an opportunity for people to [interact]."
In November 2014, the family moved into the completed space with their latest addition to the clan, a Labrador retriever. Inside the home, a series of vintage and antique furnishings slowly culled over time warmly reflects the many places they have lived, each item acting as a precious souvenir. They purchased the vintage lounge chairs in the living room from a resale shop in Chicago, and a grade-school map of the United States in Atlanta; among the family's more prized finds is a Jens Risom credenza, found in an art and antique shop in Michigan. "They speak more about our career, where we've worked, and where we've lived," says Hector. "I like to look at it as a collection of the Midwest—Chicago, Indianapolis, Detroit—and beyond, a nice reminder of where we've been." In the master bedroom, a white rocking chair, which Hector won in a contest hosted by Design Within Reach by fashioning a chair design out of champagne corks, wire, and foil, is a memento of a small triumph—as well as the arrival of his daughter, Sara, born that same year, in 2005.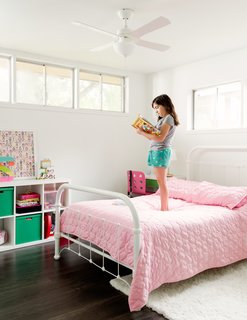 While some locals argue that contemporary style is a passing trend in McAllen, the Hibiscus House abandons architectural precedent as a long-term response to the way Hector and his family live. López's outlook on residential projects is intimate and demanding. Each project has different challenges, and he explores how people want to live and how contemporary life translates into architecture. "In the end, architecture is the optimistic view of who the family wants to be," said López. "It's a contagious thing to see how a family lives in a new space." In the case of Hector and his family, the contemporary style has caught on.