A Pitched-Roof Dwelling on Scotland's Isle of Skye
A modern house steeped in heritage, history, and spirituality emerges on the fringes of Scotland's Isle of Skye.
In the Hebrides, an archipelago off Scotland's northwest coast, longhouses—narrow single-room dwellings—have been part of the regional vernacular for more than 1,000 years. Historically, builders used what was available from the land—namely stone, turf, and thatch—to craft the pitched-roof structures. Dualchas Architects, a local firm with offices in Glasgow and on the Isle of Skye, drew from this no-nonsense typology when they designed a modern home for writer, London Business School professor, and practicing Buddhist Dominic Houlder. "Part of our firm's ambition is to promote the value of our architectural heritage and to reinforce confidence in our culture," says principal architect Neil Stephen.
Newsletter
Join the Travel Mailing List
Get carefully curated content filled with inspiring homes from around the world, innovative new products, and the best in modern design
Houlder inherited a plot of land in the township of Borreraig from his mother and sought to carve out a simple, elegant home that would foster meditation and sit well with the land. "Simple materials, vaulted spaces, and uncluttered interiors give a sense of peace as you would find in a place of worship," says Stephen.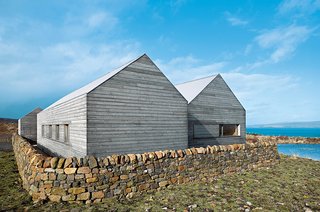 Thanks to its Siberian larch cladding left to weather in Scotland's wet and wind-whipped climate, the structure blends into the topography. "The view from the house is of space defined by moorland, mountains, and water," says Houlder. "This is a place that embraces the elements, so you get all of the excitement of storms while being safe and well insulated inside."