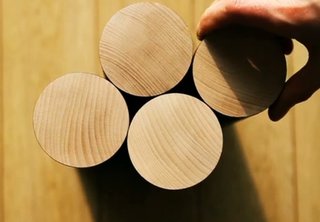 In Brussels last spring, we had the opportunity to visit Studio With a View, a collective workshop shared by an architect, two photographers, and five designers. Afterwards, we posted about some interesting work by resident designer Maarten De Ceulaer, who developed a creative new way to make bowls using inflated balloons and colorful synthetic plaster. Now we want to share another project by a designer in the collective, Raphael Charles.
Charles has designed a cool modular table called the Multiple, built from solid beech columns that can be "glued" to one another by a magnetic system. This means the table can take many forms and adjust to be as small or large as you like, from a narrow side table to a long coffee table. Here's a video that shows how it works—and how addictive that magnetic clicking sound can be:
Get the Dwell Newsletter
Be the first to see our latest home tours, design news, and more.