A Light Well and Telescoping Brick Volumes Create Precious Outdoor Space On A Slender Site
A series of interlocking masonry volumes are set behind an existing weatherboard cottage to maximize sunlight penetration and improve air circulation.
The project, known as Annandale House, has won a number of Australian industry awards including the 2017 Australian Institute of Architects Alterations + Additions, NSW Chapter Award and the Winner Hugh + Eva Buhrich Award.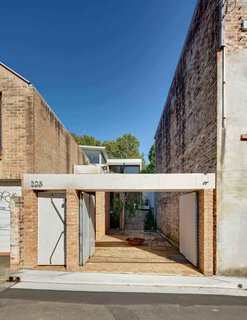 Sydney firm Welsh + Major, who designed the house for a family of four, built a new light well directly behind the existing cottage.
They fitted the light well with a large, retractable glass roof, so when it rains or gets cold, the family can shut themselves in and warm up near the crackling fireplace in the living void.
Behind this light well, they created three new brick volumes, each thinner than the one before it, that slide down the southern side of the site like the tubes of a telescope.
This opens the site up along the northern side to create outdoor spaces. The architects burrowed under the old cottage and created a new dining nook with a sandstone shelf.
This dining nook faces mirrored sliders that open to reveal a compact workstation.
Along the walls of the light well are stairs that lead up to the master bedroom and two children's bedrooms.
The bedrooms were constructed out of concrete and brick to differentiate the new quarters from the original cottage.
The 8.2-feet-wide galley kitchen with smoked oak joinery is fitted with sliders that can be fully opened to connect with a slender, open-air, brick paved courtyard.
Photography by Michael Nicholson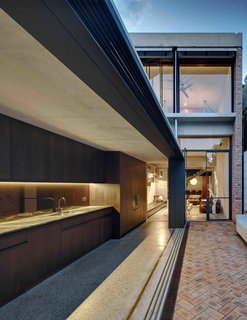 "On such a skinny site that couldn't have much of a backyard," Welsh says, "all that access to light and air makes a huge difference to how you feel about the space".