Budget Breakdown: A 1950s Duplex Receives a Striking Makeover For $190K
Put off by Montreal's rising rents, a young couple turn to first-time homeownership and dive into a design-led renovation.
Emilie Geoffrey and her partner Antoine were in the middle of hunting for rentals in Montreal when it dawned on them that it would be more cost-effective to buy and renovate a duplex in Notre-Dame-de-Grâce and rent out the second floor.

Emboldened by their calculations and the opportunity to craft a space exactly to their liking, the couple purchased an old, two-story duplex that had been virtually left untouched since its construction in 1953.
Newsletter
Join the Renovations Mailing List
Get carefully curated content filled with inspiring homes from around the world, innovative new products, and the best in modern design
To breathe new life into their dated duplex, Emilie and Antoine reached out to Naturehumaine, a local architecture firm the couple loved for their distinctively modern and minimalist design approach.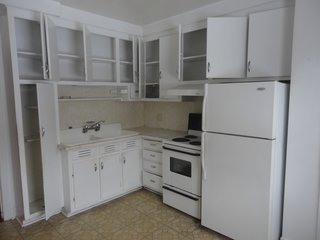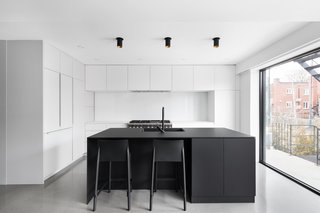 "I've been looking at great architecture projects for years, and I was sure they were unattainable for me—I am 27 and not a millionaire," says Emilie, who had an initial budget of $200,000.
"However, when we bought our first property last year, an old duplex in Montreal that needed a lot of love to say the least, we still reached out to our favorite architecture firm in Montreal. We were very surprised to see that we were able to use their services to create the space of our dreams."
The architects were tasked with transforming the basement and ground floor—formerly partitioned into six small and dark rooms—into a bright and airy apartment for the young couple.
The renovation, which came under budget, also rerouted the stairs to the basement and garage, so that only the ground floor apartment would have access.
"The architectural concept is built around three 'blocks,'" says Naturehumaine of the renovated, 900-square-foot ground floor.
"These volumes articulate the space while playing on the notion of the wall. In the center, the black volumes define the circulation and act as a filter between the various functions."
The Bessborough Residence's renovated ground floor now comprises an open-plan kitchen, dining area, and living room; storage; a master bedroom; a guest room; and a bathroom. The basement houses an additional bedroom and bathroom.
"I never thought our first house would end up looking like this, and was even more surprised to see how architecture can be accessible to all, no matter your space or your budget!" Emilie enthuses.
"It was crucial for us that we optimize our small house and create something that could evolve with us. It can seem very intimidating for young people and first time homeowners…but I think it is one of the best investments I've ever made, and would encourage young homeowners to do the same."