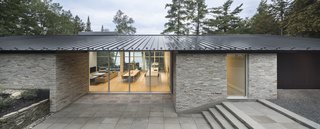 A Lakeside Retreat in Quebec Looks Sharp With a Blade-Like Roof
Anchored to a rocky site on the shores of Lake Memphremagog, a granite home sports a long, sleek roof.
Get the Pro Newsletter
What's new in the design world? Stay up to date with our essential dispatches for design professionals.