7 Breathtaking Tree Houses You Can Actually Rent on Airbnb
While tree houses are frequently available for residence within imaginary kingdoms, fantasy novels, and the landscape of our childhood memories, they're harder to come by in the real world.
Determined to make our dreams of living in a tree house come true, we did what any adventurous traveler with a taste for niche architecture would: We scoured Airbnb for the best treetop shelters around the world. And we were pleasantly surprised to find a plethora of options.

If you're looking for a break from the chaos of everyday life in a serene, natural environment, these Airbnbs will make that a reality for you. So whether you want to plan an actual vacation, or you simply want to take a short trip to yesteryear in cyberspace, these are best tree houses to escape to. And escape you will, considering that these have enough fairy tale charm to transport you out of this world. Get the magic going, and scroll through to see our picks for yourself.
This story originally appeared on MyDomaine and was written by Hadley Mendelsohn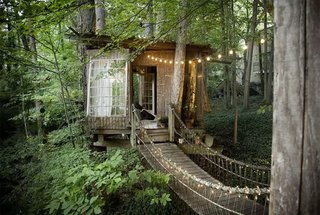 Which tree house would you want to call home? And if you can think of other home styles you'd like to explore (we're thinking castles and caves), share them with us in the comments below!

In the meantime, check out each listing on Airbnb!