11 Modern Homes With Floor-to-Ceiling Windows
As a homely bridge between indoors and outdoors, floor-to-ceiling windows introduce light, nature, and a contemporary touch to homes of all sizes.
While being inherently modern, floor-to-ceiling windows can also solve practical problems, such as allowing residents to enjoy the outside from the comfort of their homes during harsh summers or winters. Here are some outstanding modern window setups that may give you some ideas on how you can implement them into your own home.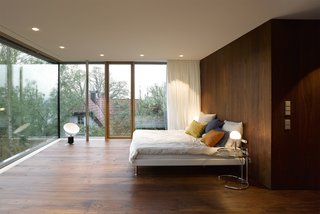 Design Matters.
Sign up for our newsletter and get the latest new stories, features, and exclusives from Dwell.
Get a Daily Dose of Design
Sign up for the Dwell Daily Newsletter and never miss our new features, photos, home tours, stories, and more.