10 Best Bizarre Homes Of The World
Recommended by
There are people around the world who work hard every day to buy a shelter for themselves. Build a home where they can have a resting place for their family. A city apartment or a bigger house in the suburbs is something that might satisfy most. But, there are people who dream bigger, people who put their crazy imagination in making a living space that attracts attention like no other. In the race to do so, many have created the most bizarre homes of this planet.

The upside down
Made by architect Daniel Czapiewski, there is a home in Poland that is completely upside down. Though the construction workers struggled to work in this confusion of a situation, this building was completed in about 114 days to make a statement about the changing state of the country.
Living in a shoe
Footwear business giant Mahlon N. Haines had a dream to live in a shoe shaped house which he realised. With three bedrooms, a kitchen and a proper living area this is one amazing home to stare at.
Dome House
Built at the water's edge in Auckland is a home that looks like a spaceship that some mysterious extra-terrestrials must have landed on our planet. Shaped like a dome this house is just out from a sci-fi movie. The shell house This house in Mexico was ideated and designed by famous architect Javier Senosiain. Made to resemble a gigantic sea shell shaped like a conch, this home has three stories that are not parallel floors to each other. The design was conceived with the idea to project the uneven ground patterns found in nature. The cave house A magnanimous nine stories deep inside the ground is a cave house in Australia that was built with help of mining workers to create a wonder. Placed inside a wine cellar this is an amazing living experience.
The stone house
This house in the lush fields of Portugal was built to be a shelter home. But recently it has started attracting tourists and architecture fanatics for its design that makes it sit between four large boulders.
The tea house
Made from the love for tea that Great Britain has had since ages, this house was primarily built to be a shelter for wood drying, that is now a fully amenity laid living area. So wish to plan a tea party inside a teapot?
The aircraft house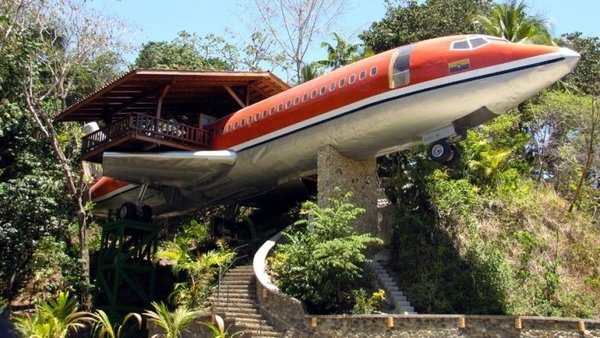 If you think an aircraft is just made to take you from one city to another then change your thoughts. When owner Joanne Ussary lost her home, damaged by an ice storm, she got creative. Procuring a decommissioned airplane she made a house out of it that is sheer astonishment.
The undercover home
When talking about Nevada you can just think of luxurious yet affordable hotels in Las Vegas. But here is a man who built the most stylish house with a twist. Girard B. Henderson made an underground house with sauna, pools and a changing light scheme for different moods of the day or night. Now that's why Las Vegas is a city of design freaks.
The piano house
A giant building in China is shaped like a piano and the entrance is designed to be a huge glass violin. The open top of the piano structure works to be the shading canopy of the roof of the building. Now that is truly built for a life in tune. We are sure you have had fun browsing through our list. But, what's better is if you can add some more you know of and let us be all amazed too.
Linda Anderson
@lindaanderson
I'm a writer and musician residing in Boise, ID in the United States, although I spent a small amount of time (about three years) living in the UK growing up, due to my father's occupation. I graduated from the College of Idaho with a Bachelor's Degree in Business and a focus in marketing in 2014. I spend a large amount of my time writing nowadays, having contributed content to the Sonic Bids blog, Small Business Can, Small Business Bonfire, Pyragraph, and many more. As a serious musician with a passion for the business side of things and a strong interest in marketing, I tend to keep one foot in the music niche and one foot in the business niche.
Comments
Everybody loves feedback. Be the first to add a comment.
The author will be notified whenever new comments are added.